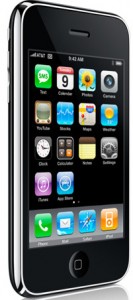 Synchronization of contacts is simple on Mac, but could be a nightmare on Windows.
First of all, you need iTune7.7 to perform the synchronization. After plugging your iPhone, select your device and go into the Info tab of iTunes. 4 methods are offered to synchronize your address book:
Yahoo! Address Book
Windows Address Book
Google Contacts
Outlook
I haven't test Yahoo! Address Book, but test the 3 other ones. The best result is obtained with Outlook.
I don't use it for email (using Thunderbird), just starting to use it to maintain my address book.
First step, you have to consolidate your address book into one of the source supported by iTunes. It could be actually the most consuming task. I had some contacts on my previous phone and some in Thunderbird address book. My previous phone provided a soft to export the directory into csv. I made the merge into an Excel spreadsheet with the contact from Thunderbird.
Google Contacts is limited. There is no field birthday, and first name and last name are merge into the same field.
Windows Address Book doesn't import properly csv file with unicode character.
Outlook as well doesn't import properly csv file with unicode character. Actually the problem seems to be more the way Excel is generating csv file, but the result is the same. However, Outlook is able to import a binary Excel sheet. In our Excel spreadsheet, just select the area containing all the data and give it a name.
To keep in mind the Outlook email fileds are mapped on the iPhone:
Email: work
Email2: home
Email3: mobile
An alternative to iTunes is to use a tiers software for the synchronization. Funambol for instance is available on AppStore on your iPhone and as plugin in Thunderbird and Outlook. Your contacts are fisrt uploaded from your PCÂ  to a Funambol server, and after download by your iPhone from the remote server.